Online turbidity Analyzer waster water SS sensor NS-SS682 digital water quality monitor
Product introduction
The sensor uses a specific infrared light processing technique. The light transmitted by the infrared emitter is transmitted through the medium and irradiated to the detector to obtain relevant data. Then, by analyzing the data signals, the accurate concentration of the suspended matter in the medium can be obtained. No matter for high range or low range, they share same accuracy and continuity. And the built-in photometric compensation of the sensor can effectively eliminate the deviation caused by some changes in the environment and can be used in more places. It is widely used in the monitoring of suspended solids concentration in chemical, electroplating, paper making, environmental water treatment engineering, pharmaceutical, food, tap water and other solutions. Especially suitable for use in the field and on the spot.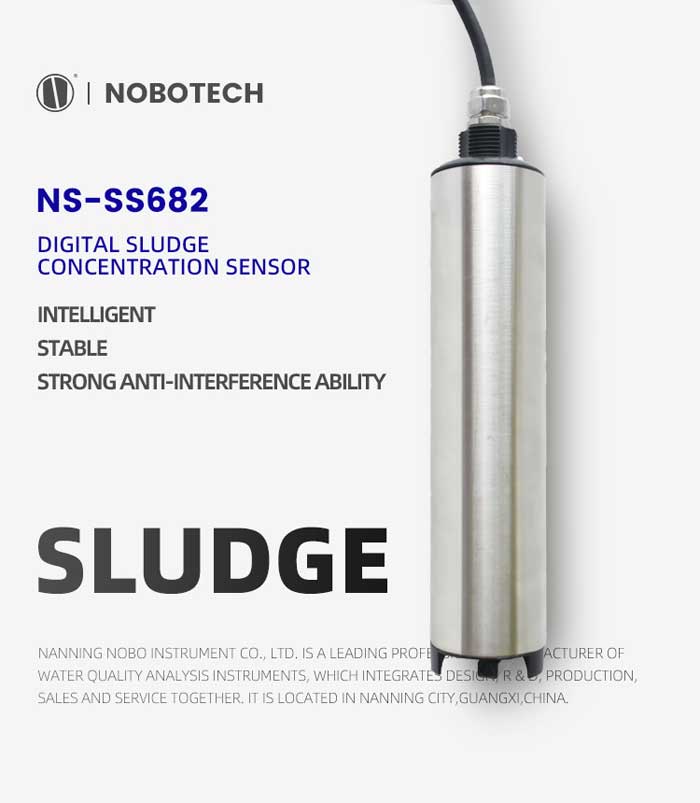 Online turbidity Analyzer waster water MLSS sensor NS-SS682 digital water quality monitor
Main features
The shell is made by 316L stainless steel, it has good corrosion resistance.
The transmitted light adopts a stable invisible near-monochromatic infrared light source, which avoids the interference of the chromaticity of the liquid and the visible light of the outside on the sensor measurement; and the built-in photometric compensation improves the measurement accuracy.
Quarts glass lens, which is good transparency, was used in light path, infrared light waves are more stable in transmission and reception.
Wide range of measurement, stable measurement, high precision, good reproducibility, not affected by water flow rate and pressure
Communication function: two optical isolation signal output, that is RS-485 communication interface (partially compatible with MODBUS-RTU protocol), the communication interval is up to 50ms; and 4~20mA current output, 4-20mA can be reverse output; it can directly connect to computers, PLC and other devices without controller with RS485/4-20mA signal interface for data acquisition. It is convenient for users to integrate the sensor into the industrial control environment such as the upper computer system and the physical connection system.
The sensor can be set by RS485 communication, slave address and baud rate, online calibration, factory reset, 4-20mA output corresponding range, modified range, proportional coefficient and incremental compensation.
Three-point correction.
Watchdog function: make sure the meter doesn't crash.
Power off protects > 10 years.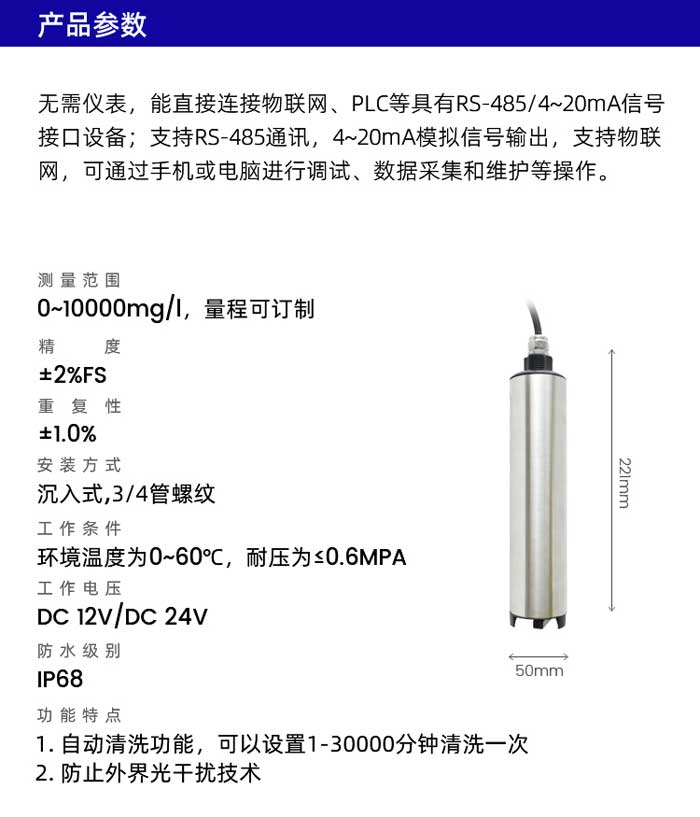 Online turbidity Analyzer waster water MLSS sensor NS-ML682 digital water quality monitor
Technical indicators
Measuring Range: 0-10000mg/L, measurement range can be customized.
Accuracy: ±1.0%FS
Repeatability : ±1.0%
Signal output: equipped with RS485 communication (partially compatible with MODBUS-RTU protocol) and 4~20mA signal output, all of which are optocoupler isolation protection
Working conditions: Ambient temperature is 0~60°C, Withstand voltage is ≤0.6MP
Output load: <300Ω(4-20mA)
Working voltage: DC 5V, 12V, 24V
Size: Length 237mm, maximum outer diameter 64mm
Installation method: submerged
Mounting thread: G1 inch pipe thread
Weight: 3kg
Protection level: IP68